If your default browser is Firefox or Chrome you have have notice recently that both browsers are starting to take a harder stance on insecure login pages.
Whenever inputting text to a field, or when on a login page not secured with HTTPS, both Firefox and Chrome have their own ways of notifying users that the data they are sending, such as passwords or credit card numbers could be intercepted by someone bad.
Chrome is showing "Not secure" next to the URL bar and Firefox puts a banner under the password field of text boxes.
Firefox: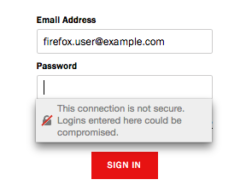 Chrome:
Users on twitter are seeing these notifications and taking it up with the companies that run the sites.
@LFCTV what is going on with my login? asking me to contact administrator and this is not a secure site… #LFC pic.twitter.com/oY3tvMYucT

— Richard Marsh (@Zabadda) July 10, 2017
@InterserveNews why are your login and signup pages not secure? @SwiftOnSecurity @troyhunt pic.twitter.com/d9wuu1fy8B

— darkmooink (@darkmooink) June 16, 2017
@curryspcworld ..Google Chrome Web Page, shows your log-in page as not secure…… pic.twitter.com/feXh0jYQxL

— oaktree (@1oaktree1) May 18, 2017
https://twitter.com/search?q=%22log%20in%22%20%22not%20secure%22&src=typd
https://twitter.com/search?q=%22log%20in%22%20%22not%20secure%22&src=typd